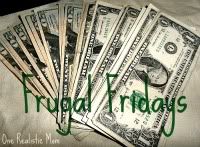 It's that awful time of year.
Two car registrations
Two green slips
Car insurance
Council rates
Water rates...and more.
All due at the same time!
The Warren family needs to tighten it's belt.
I think we might just be able to pay all of the above, and still afford to live.
This week, we'll reduce our grocery bill by taking stock of what we have in the pantry and freezer, and building a meal plan that revolves around what we already have. It's amazing how much you accumulate in the cupboards just by shopping blindly. So often I pop things in the trolley thinking I need them, only to come home and find another three sitting there!
This week, when we go grocery shopping, I will be armed with a shopping list and only buying the necessities. No packets of ready-made muesli bars and biscuits...not when I have everything in the cupboard to make them myself.
This week, we will make enough at dinnertime to allow for leftovers for lunch the next day...not only saving money on buying lunch, but time preparing something in the morning! Win, win.
This week, we'll make homemade pizza and have a family movie night. There's nothing quite like a floor picnic and a dvd for a cheap night in.
What does your family do to save a little money during those difficult billing cycles?

Linking up with
One Realistic Mom
for Frugal Friday