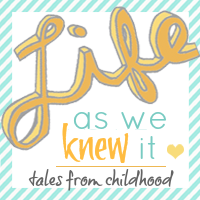 Introducing, a new weekly linky! One thing I've notice about this blogging game is that we're all so focused on the here and now, and what's happening next. I want you to cast your mind back to a simpler time, when you spent time playing in the backyard, improvising and using your imagination. What are your happiest memories?
Each Monday, I will be sharing a story from my own childhood and I invite you to do the same! I will open a linky at the bottom of each post, and you will have a week to join in. There will be no weekly prompts. I want you to blog whatever story from your childhood you feel like as it comes to mind...before they are forgotten.
So, what has prompted this trip down memory lane?
Last night, I got the phone call I've been dreading from my Dad. My parents are putting the family home on the market next month. I knew it would be happening, but now it seems all too real. I am so excited that my parents are moving closer to me (just 5 minutes down the road actually), but I'm so sad to be saying goodbye to the home I grew up in. It's brought back a flood of memories and I want to write them down, and share them with my children...and you! Yes, my family home is incredibly special to me, but it's the memories that are in my heart, not the physical building. Here we go...
My family home was a very modest home. One living room, one bathroom, three smallish bedrooms, one small kitchen and dining room. That was it. There was no need to have a separate room for every function. If you wanted to do your homework, it was completed at the dining table, or at my desk in my bedroom...none of this separate study business.
I loved my bedroom and I spent a lot of time playing in there. It was literally wall to wall blue. It's walls were covered in an oversized pale blue floral, with a pale blue painted ceiling and navy carpet, as was the style in the 70's. Yes, blue, blue, blue! Not your typical little girls room. I slept in a springy white Queen Anne bed, and I still remember how comfortable it was lying on my tummy with our cat BJ asleep on my back, or in the crook of my knees. There was a big built in wardrobe with sliding louver doors that seemed to stick whenever I'd try to slide them open...probably because I never put anything away properly. My sister's bedroom was all about yellow, with brown furniture and the same navy carpet that was right through the house.
My bedroom was the bigger of the two (fractionally), and I was forever rearranging my furniture. Even as a child I was into decorating, trying to find a design that suited me. Mum and Dad never minded how the furniture was placed, as long as it was tidy. I was terrible at keeping my room clean, and mum would have to come and sit on the end of the bed and talk to me while I tidied up. Nothing has changed there. lol.
Our bedroom doors were on opposite sides at the end of the hallway, and we could lie in bed looking at each other as we fell asleep. Whenever we were sent to our rooms for bad behaviour (which wasn't all that often), we would sit in our doorways, staring at each other and crying. lol. So very dramatic.
My sister and I, in fresh pyjamas after our nightly bath | Summer 1978-79
One day, my sister and I decided to swap rooms...Beth wanted to see what it was like to have a bigger bedroom, and I wanted to live in the yellow room. Big mistake on my part! I hated it in there. The window faced east, and the sun would blaze through there first thing in the morning. I wanted to move back so quickly, but Beth wasn't so keen. We lived that way for a few months until Mum and Dad intervened and I got my room back.
My old bedroom is currently being used a study, and all of the old furniture is long gone. It saw a lot of changes over the years, and I'll share my renovation stories with you another time.
What was your bedroom like growing up?

Now, over to you...share your memories from childhood on your blog, and link up here.