I love the Logies...the glitz, the glamour, the really bad puns...it's all good. Last night was probably one of the best and worst Logies I've seen to date...and yes, I watch it every year! I loved the fact that there wasn't one particular host. I felt that the show ran so much smoother, and there were no awkward hosting moments at all. The worst...running over time...again! Oh, and finding out who won the gold a good hour before it was televised (congrats to Hamish Blake!). Of course, the main reason to watch the Logies is to check out the gorgeous (and some not so gorgeous) frocks worn by Australia's favourite stars. Here's my picks for this year...
Fashion favourites on the night...
Delta Goodrem
I thought Delta look absolutely flawless last night...stunning frock, makeup, hair and minimal accessories. This woman is a goddess and has the dress to prove it! I love that Delta doesn't feel the need to show all her goodies like some startlets and she looks completely confident. Love.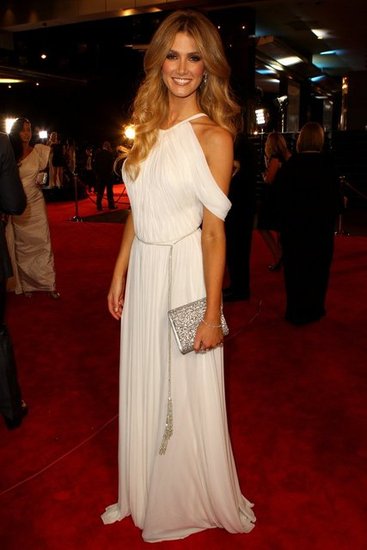 Asher Keddie
Sleek and sophisticated in every way. Sheer gowns were very popular last night, and Asher pulls it off the best! This J'Aton dress is a masterpiece, with details in all the right places, and subtle pops of yellow on white really make this dress.
Jennifer Hawkins
Only Jennifer could get away with wearing a slit so high...she's definitely got the legs for it! I love the teal dress with the coral heels, and colourful accessories. This whole outfit and the casual hairstyle just scream fun, fun, fun. She's exactly what the red carpet needed last night. I'm just thankful there weren't any Angelina Jolie leg popping moments.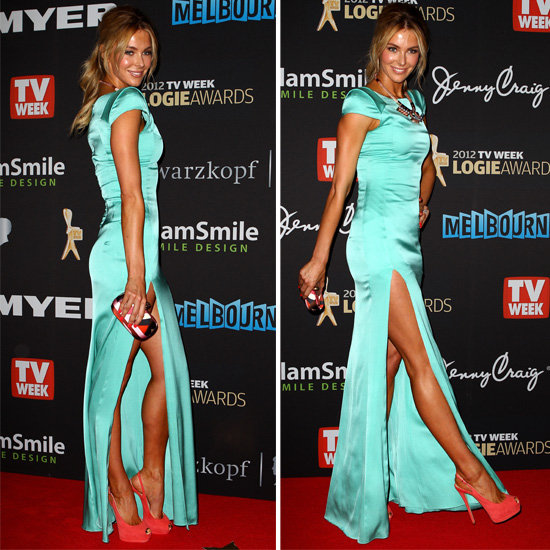 Shelley Craft
Dressing for the red carpet whilst pregnant must be one of the most stressful moments a starlet can face. Shelley proved that your bump is your best accessory. This simple black dress is pushed over the top with the emerald green neck details. The blunt fringe and pulled back hair compliment this dress to the max.
Kate Ritchie
Kate looks better and better every year! This silhouette is perfect for her figure, hugging her in all the right places. I love the mini satin belt breaking this navy sequined gown at the waist, and the simple accessories and hair. Just beautiful.
Lisa Wilkinson
This one may be a little controversial, but I have to say, this green gown is gorgeous! I love that Lisa always selects dresses that are a little out of the norm...setting the trend, rather than following it. This dress flows beautifully from the waist, and the halter neck suits her perfectly. In my humble opinion, she never gets it wrong, whether it's on the red carpet or on the Today Show.
Fashion faux pas...oh dear...
Yumi Stynes
The Logies mullet dress. Someone please end this trend now!! I know that Yumi is a little quirky and her style reflects that...but I know she can do so much better. This frock does nothing for her. Perhaps if you cut the back off, or make the skirt plunge to the floor, it might have saved it, but no. An opened toe shoe would have looked better too.
Sandra Sully
I am shocked at Sandra's choice this year! She normally looks so incredibly stylish. This dress doesn't look like it fits her properly through the middle, and the sequinned pattern is too overwhelming for it. I think an upstyle would have been more flattering for her too. I hope she can redeem herself next year.
Terry Irwin
Has Terry raided Bindi's wardrobe? This dress is all wrong for her! There comes a point in your life when you have to wear your dresses a bit longer, and cover up the knees. Mid calf would have been perfect for her...as would a nice up "do". It looks like she hasn't made much of an effort at all.
Kat Stewart
This one has me torn. I love the top half of this sheer dress, but the bottom half is all wrong! The length of the hem at the front, and the band on the hem just cheapens would could have been an absolute show stopper! This would have looked fabulous either as a floor skimming gown, or a mini. So close...
If you've seen one black tuxedo, you've seen them all!
One Direction
One cannot talk about the 2012 Logies without mentioning One Direction. I love that these Brit boys avoided the traditional black tux and kept it young and fresh in shades of blue and grey. Well done boys! Teenage girls around the country were right to scream out...you have serious style!
Guy Sebastian
Clearly the winner of best dressed male on the night, and dare I say it, the most stylish Australian male at the moment! Guy kept his cool in this three piece midnight blue slim fit suit. He put all of the other men on the red carpet to shame!
Seal
Lending serious star style to the red carpet was Seal in this white number. Only he could pull off a white suit with white shoes! Love the satin detail down the sides of the trousers, and love that he went sans tie. Seal rocked the Logies this year.
I had a great time watching the Logies last night, and revealed in the fashions. Did you have any favourities, or fashion fears on the night?
Image sources...here, and here...