I've been sitting on this announcement for a little while...I've been asked to join the inspiration team for
Words or Whatever
! I love working with chipboard, and I'm really excited to be designing with these super talented and lovely ladies.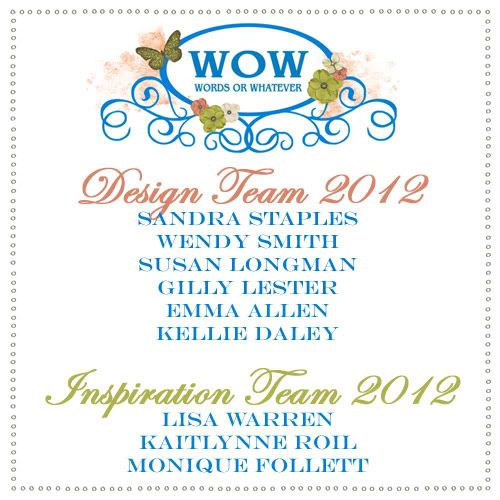 So, what's the difference between the design team and the inspiration team? Mondays and Wednesday, the design team will be bring you how-to tutorials, techniques and more. Then, throughout the week, you will see the inspiration teams layouts using WOW chipboard. That's were I fit in! Here's my layout from the dt announcement...
To create the title, I have combined WOW's adhesive classic alphabet, with the word "just" from the "boys and dirt just go together" chipboard title. The letters have been coloured with brown marker, outlined with gel pen, then coated with clear glaze.
Each of the flowers has been coloured yellow, with peach centres. The petals were split and curled with a craft knife to expose the layers underneath, and to add more dimension. The lower petals were also coloured yellow, then glaze added to the top. A pearl finishes off each of the centres. The stems of the flourish have been coloured with two shades of green, and coated in glaze.
Tip: If you're using different coloured markers on your chipboard;
to prevent the colours bleeding together,
score a line between the two areas with a craft knife first.
Products used:
RWL12 - "Boys and dirt just go together" title
C1384 - Classic alphabet uppercase
C1385 - Classic alphabet lowercase
RWL135 - Frangipani Scroll 3
I look forward to sharing more projects I've created using Words or Whatever's chipboard over the next 12 months! Head on over to the
WOW blog
to meet the rest of the team, and to see what they've been creating.