Tonight we will witness the marriage ceremony of Prince William and Kate Middleton...and I for one am excited!! I still remember watching Prince Charles and Lady Diana marry when I was a little girl. The images of her walking down the aisle in that gorgeous taffeta dress with the big puffy sleeves and endless train have stuck with me forever. My Granny gave me a book commemorating their wedding, and I would pour over those images for hours. Watching Lady Diana become a princess had an everlasting impact on me...and tonight, I will watch the wedding of her son to the love of his life with my own daughter. Time to crack out the tiaras and settle in for a good night...best go find some tissues...
This is our own story. As anyone who plans a wedding knows...what can go wrong, will go wrong...and our wedding is living proof of that! Andrew and I married on 5 May 2001...10 years ago next week. We planned a beautiful garden ceremony at the Camellia Gardens, Caringbah...although Mother Nature had other plans. The morning of our wedding was absolutely beautiful...not a cloud in the sky. As we drove home from having our hair and makeup done (the bridal party that is, not Andrew), the heavens opened up!! Not just a sprinkle, but a torrential downpour! The sky had turned that ominous grey/green...I don't think I've ever seen it that colour again. People kept reassuring me that rain is good luck...well, we should have won the lotto by now, it was raining that heavy. lol. Andrew was so worried that I would be upset...it didn't matter...I wanted to marry my best friend, no matter the location. Mind you, I had been a bit of a bridezilla in the days leading up to our wedding.
So, our service was delayed by 3/4 hour to give the guests time to make it to the reception venue instead. I still remember my poor cousin Sam standing in the rain and redirecting people. He was soaked through to the bone! My Dad walked me down the "aisle" of the dance floor as a bagpipe player piped "Amazing Grace". My family were in tears...as all good Scots people are when hearing the bagpipes. Dad had to hold me back...I was walking so fast, he thought I'd break out into a sprint. I just wanted to get to Andrew. He looked so handsome in his suit and cravat...the second one he picked up that week because the suit hire place had given him the wrong one! He hadn't noticed, but bridezilla had. Incidentally, the piper had a sprained ankle from falling over in the bath that morning! oops.
We stood together at the end of the dance floor surrounded by family and friends and took our vows. Overhead was a sea of colourful balloons with silver streamers trickling down. Our celebrant was hilarious...not in comedic content, but that she sounded nothing like she had when we'd met her to discuss the wedding. She must of had a "performance" voice she used. lol. She did a great job though, and we were married. My Aunty Lorna and Andrew's Aunty Pat did the readings. Beautiful verses of poetry that spoke of love.
"...Love is the surge of tide pulled by the moon, a lake where silence dwells. Love is ever constant and ever changing."
(unknown).
"...stand together yet not too near together; for the pillars of the temple stand apart, and the oak tree and the cypress grow not in each other's shadow."
from "The Prophet" by Kahlil Gibran. Once the service finished, the rain took a break, so we headed out to Carss Cottage to try and take some photos...
Our attendants were Andrew's brother Nathan and cousin Justin, and my sister Beth and Andrew's sister Katy. Love that we shared our special day with family. I wouldn't have had it any other way. Not four months earlier we had been in London for my sister's wedding to Edi in freezing -2 degree weather. Us Heyhoe girls know how to make a day memorable! Andrew's brother Nathan will be marrying his fiance Racheal at the end of this year...I can't wait...but that's another story. The girls wore dark grey dresses that ended up looking two-toned. They started soaking up the rainwater while we were having our photos taken! I think we were only gone an hour and a half, and by the time we got back to the reception, most of the guests had had too much to drink! Time to party...
Our reception was held at Carss Park Bowling Club, and there was so much food! While we were having our photos taken, the guests nibbled on canapes. Then it was onto the sit down portion. Seafood bon bons or fresh tortellini for entrees; beef fillet topped with braised prawns and hollandaise or chicken breast stuff with camembert for mains and then dessert...which I can't remember for some reason. Was there brandy snaps with fruit salad and cream or sticky date pudding...something along those lines. I do however remember our cake. Three tiers...alternate chocolate mud and fruit cake. Our poor cake maker fell over with the cake the day before the wedding and smashed all the icing flowers...and her knee! She was in serious pain, but pulled it together and re-iced the cakes and made new flowers. In some parts, the icing was over one inch thick. lol.
The dj kicked off the tunes for our first dance as Husband and Wife... Etta James' "At last"...sweet and romantic, then it was all up on the dance floor to boogie the night away. The conversation and alcohol was flowing freely...thanks to Andrew's Dad and my Dad topping up the bar tab every opportunity...it was a BIG party. By the end of the reception we were exhausted and couldn't wait to get back to our hotel room. Andrew had arranged for a limousine to pick us up and whisk us off to a secret location...just one problem...the driver forgot and was sitting at home in his pyjamas! dóh! All was good in the end. The driver came and got us and we spent our wedding night at Rydges Cronulla...picking the 100+ bobby pins out of my hair. Seriously, it was just a comedy of errors, but it didn't matter...we had planned a marriage, not just a wedding....and we're still living happily ever after.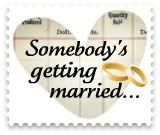 Cheers, Lis.
ps Don't forget to share your own wedding story and link up to
Three Lil' Princesses
.